ANALOGUE/AHD/IP HYBRID NETWORK DVR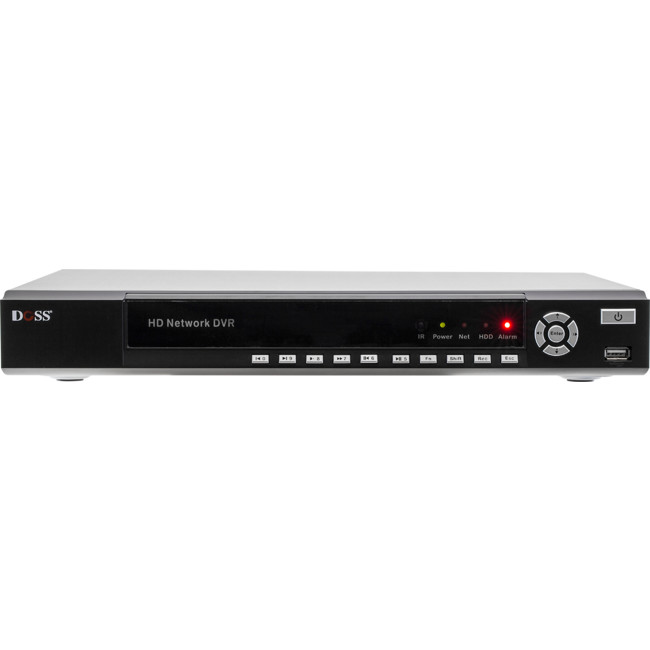 Discontinued
The new Doss AHD (Analogue High Defenition) series Hybrid DVR is a new HD solution for analogue CCTV systems. It works with analogue/CVBS, Analogue HD and even IP cameras. It enables you to play back video, record what your cameras see, and remotely control the system simultaneously!
AHD has its roots in standard definition analogue CCTV—using the same cables and connectors—reducing the complexity of the deploying systems and costs related to materials and maintenance. This makes it extremely easy to upgrade old systems without upgrading every piece in your system—thanks to the hybrid nature, you can use your existing analogue cameras, upgrade or add extra AHD cameras, or even networked IP cameras!
Supports Analogue and AHD Cameras
Compatible with IP cameras
H.264 dual-stream, embedded Linux operation system
Simultaneous video recording, playback, remote monitoring, backup
BNC/VGA/HDMI sync output, supports 1080P HD preview
15 times electronic zoom preview and playback video image
EXT alarm, bi-directional talk
DDNS, EMAIL, UPNP, NTP and P2P
WEB, Mobile viewer, Client and CMS
Model
HBD4DVR
43171110
HBD8DVR2P
43171120
Video
Video input (options)
4x 1080P (13fps)
4x 720P / 4x 960H (25fps) + 4Play
4x 720P / 4x 960H (25fps) + 4x 1080P IPC +1Play
8x 1080P/720P AHD (13fps) /
960H (25fps) + 4x 1080P/720P (IPC) (25fps) + 1Play
8x 1080P/720P AHD (13fps) / 960H (25fps) + 4Play
Video compression
H.264
Video output
BNC/VGA/HDMI simulaneous output
1920×1080, 1440×900, 1280×1024, 1366×768, 1024×768, 800×600
Video resolution
1920×1080, 1280×960, 1280×720, 960×576
Stream Type
4 x [1920*1080] + 4Play
4 x [1280*720] + 4Play
4 x [960*576] + 4Play
4 x [1920*1080] / IP4 [1920*1080] + 4Sub_Play/ 1 Main_Play
4 x [1280*720] / IP4 [1920*1080] + 4Sub_Play / 1Main_Play
4 x [960*576] / IP4[1920*1080] + 4Sub_Play / 1Main_Play
8x [1920*1080] + 4Play / 8x [1920*1080]
IP
4x [1920*1080] + 4 Sub Play / 1 Main Play
Video bit rate
64 – 8000Kbps
Image display
1 / 4 / 6 / 8 / 9
Snapshot
Yes (BMP)
Motion detection
396 (22*18) surveyed area can be set in every screen and multi sensitivity adjustable
Audio
Audio compression
G.711A
Audio input
4CH, RCA port
Audio output
1CH, RCA port
Video recording and play back
Video frame rate
AHD: 13fps (PAL) / 15fps (NTSC)
Analogue/IPC: 25fps (PAL) / 30fps (NTSC)
Record mode
Manual / Alarm / Motion Detection / Schedule
Local playback 
1CH/4CH simultaneous playback 
Search method
Time, calendar, event, channel
Video playback
Start, stop, fast play, slow play, frame play, snapshot, full screen, roller amplification time ball precise playback
Storage and Backup
HDD capacity
1x SATA (max 4TB)
Record saving
Local HDD, network
Backup method
Network backup, USB storage device, USB recorder
Function
Network protocol
TCP/ IP, HTTP, DDNS, SMTP (SSL), DHCP, PPPOE, UPNP, NTP, P2P, ONVIF
Interface protocol
Onvif, RTSP, I8, I9
Mobile surveillance
Supports Apple, Android
Web browser support
Support IE, Chrome, Firefox, Safiri
Intelligent detection
Motion detection, video loss, privacy mask
External Interface
Video input
4CH BNC port (1.0Vp-p, 75Ω)
Network interface
RJ45 10M/100M adaptive ethernet port
Alarm input
4CH
Alarm output
1CH
RS-485
1x RS485 port
USB port
2x USB2.0
General
Power supply
DC12V / 3A (Included)
Power consumption
<10W (Without HDD)
Operation temperature
–10°C ~ 55°C
Dimension(mm)
300 (L) * 209 (W)* 48.5(H)
Weight
1 kg
What you need to know for new CCTV installations
Cameras
What does each camera need to see? i.e. how far, how wide, how much detail?
What are the conditions the camera needs to work in? i.e. Day or night, infra-red, indoor or outdoor?
How will it be mounted, and are there any style considerations?
DVRs
How many cameras does it need to monitor, allowing for any expansion?
Do you need full D1 (576 line) recording on all channels?
How many days of recording at what quality needs to be stored?
Cabling
Do you want to run coaxial + power, or CAT5E/CAT6 with baluns?
Power
Will you supply power locally to each camera, or have one central supply?
What size of UPS do they need?
Do you want a plug pack, wall box (needs an electrician to wire), rack-mounted supply, or power supply + video balun box in one?
Networking & Remote Access
Does your customer want to view their cameras remotely?