BVB4102S SCREW TERMINAL BNC VIDEO BALUN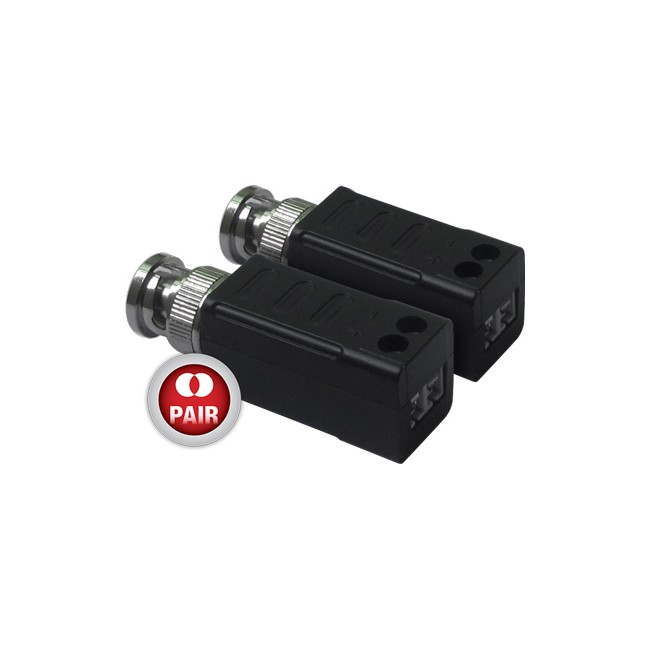 Additional Images
Male BNC of BVB4102S allows connection directly to the camera or DVR. Screw terminals allow easy connection of UTP cable output. Working in pairs, the BVB4102S eliminates costly and bulky coaxial cable, allowing live CCTV colour video signal up to 400m (1300ft). The BVB4102S is also compatible with other Video Balun products from DOSS.
The superior interference rejection and low emissions of the BVB4102S allow signals to coexist in the same wire bundle as telephone, datacom, or low-voltage power circuits. This allows the use of a shared or existing cable infrastructure. The BVB4102S has built-in surge suppression to protect video equipment against damaging voltage spikes. Its crosstalk and noise immunity ensure quality video signals.
Basic Usage

Advanced Usage


click for larger image
The DOSS Range of UTP Video Baluns allow you to connect your CCTV system using cheaper, thinner, lighter and more readily available CAT5E cable rather than expensive and bulky RG59U cable.
The passive (non-amplified) baluns allow transmission of realtime CCTV video signals over cost-effective Unsheilded Twisted Pair (UTP) cable, without any compression, loss or signal degradation and without the need for extra power supplied to be installed. Baseband (composite) signals of any type are supported.
Single Channel Passive Video Transceiver
Full-motion colour video signal up to 400m (1300ft) and
monochrome (B&W) up to 600m (1950ft) via UTP cat5e/6
NTSC, PAL & SECAM video format compatible
Real-time transmission
No power required
Two screw terminals
Male BNC connector
Exceptional interference rejection
Built-in TVS (Transient Voltage Suppressors) for surge protection
Lightning protection design Grade III
50 dB crosstalk and noise immunity
Compact size and easy installation
ABS engineering plastic housing
Security Monitoring System
Multimedia Network Teaching System
Medical Monitoring Display System
Industrial Automation Control System
Banking, securities, financial information display system
Remote Network Server Monitoring
Department Store Security
Casino Security
Hospitals, Airports and banks
School Campuses
Applied Devices
CCTV cameras, monitors, DVR, switchers, IP encoders, and other CCTV equipment
Video
Video Format
PAL, NTSC, SECAM
Operating Frequency
DC to 5MHz
Max Distance
UTP Category 5e (24AWG)
Color: 400m (1300ft) 
B&W: 600m (1950ft)
Common-mode /
Differential-mode rejection
15kHz to 5MHz 60dB typical
Impedance
Coax, Male BNC 75Ω unbalanced
UTP, Screw terminal 100Ω balanced
Attenuation
1.5dB Max typical
Wire Type
Network Wiring
One Unshielded Twisted Pair (for each video signal)
24-16 AWG (0.5-1.31mm)
Category Type
2 or better
Impedance
100 ±20 ohms
DC Loop Resistance
18 ohms per 100m (52 ohms per 1,000ft)
Differential Capacitance
62 pF/m max (19 pF/ft max)
Power
No external power required
Connector
Video input/output
Male BNC connector
Videoinput/output
Screw terminal
Protection
Surge Protection
Renewable solid state surge protection
Video Input
2KV(common mode),
10/700µs IEC6100-4-5/1955(GB/T 1726, 5-1999)
Video Output
2KV(different mode),
10/700µs IEC6100-4-5/1955(GB/T 1726, 5-1999)
Mechanical
Housing
ABS engineering plastic
Body Color
Black
Dimensions (L*W*H)
42.4*17.8*17.4mm (BNC connector)
Net Weight
20g
Environmental
Operating Temperature
-20º~ 70º C
Relative Humidity
0~95% (non-condensing)
Storage Temperature
-40º~ 150º C