HD8200VPDT HD-SDI+POWER+RS485 TRANSMITTER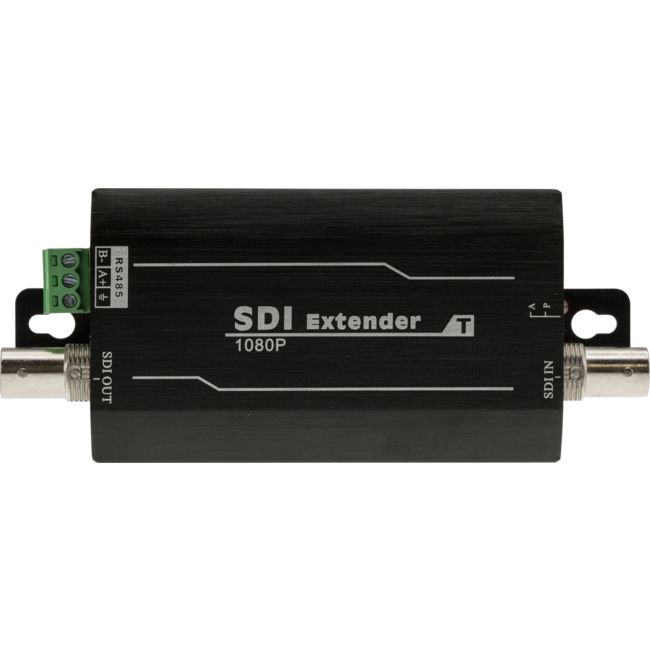 Downloads


HD-SDI Extenders & Splitters Sell Sheet (pdf)
Discontinued
The DOSS HD8200VPDT is an active high definition digital signal extender solution (Transmitter Only) for HD-SDI links, operating over 75Ω coaxial cable. Each unit
can transmit a HD-SDI high definition digital signal up to 200m over coaxial cable. It can be used with multiple repeaters to extend distance up to 1km.
Applications
Security Monitoring System
Multimedia Network Teaching System
Medical Monitoring Display System
Industrial Automation Control System
Banking, securities, financial information display system
Remote Network Server Monitoring
Department Store Security
Casino Security
Hospitals, Airports and banks
School
Features
Compatibility: compatible with HD-SDI and SD-SDI signal
Transmission Distance: 0-200m (HD-SDI 1.485Gbps)
Characteristics: Automatically clock recovery caching processing technology
In conjunction with multiple repeaters, the distance can up to 1km max
Automatically fit the SMPTE and ITU digital video standard
High interference suppression, anti-surge technology
Support high-definition HD-SDI digital video at 720p60, 1080i60 and 1080p30 formats at all frame rates
Integrated cable equalizer for long distance video transmission without quality loss
High-quality digital video and audio transmission with nearly zero latency
Please note: unit requires power supplied from the Receiver unit (HD8200VPDR). Must be paired with Receiver unit (HD8200VPDR). Does not power camera.

Typical Application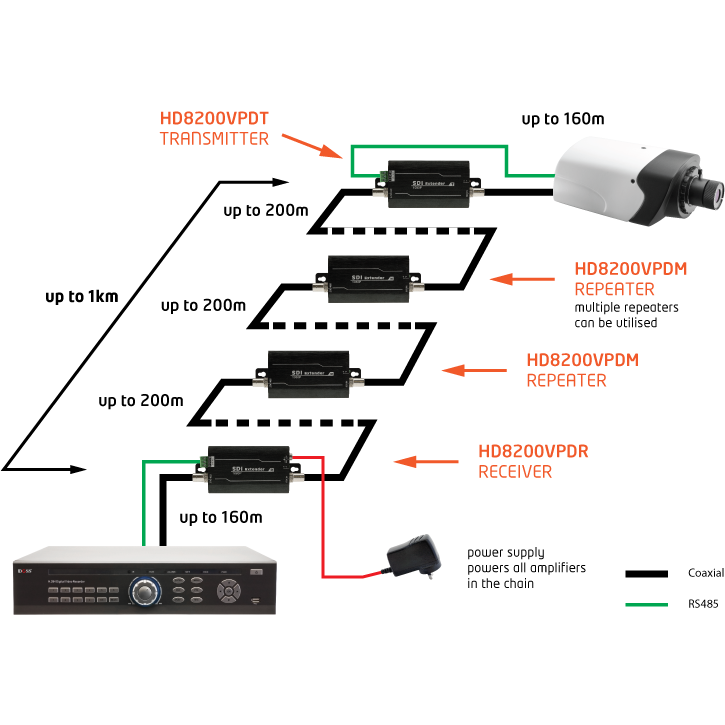 Click for larger image
Specifications
Power supply
Power supply
Power Adaptor
Adaptive voltage range
+12~24V DC
Power consumption
<1W
Function
Input signal
1CH
Output signal
1CH
Maximum distance
HD-SDI :220m
SD-SDI :400m
Standards supported
SMPTE 259M,
SMPTE 292M,
SMPTE 424M,
ITU-R BT.601,
ITU-R BT.1120,
DVB-ASI
Clock recovery function
Yes
Maximum speed
1.485Gbps
Video Output
Output signal format
HD-SDI, SD-SDI
HD-SDI and 3G-SDI digital video
Interface connectors
Two 75Ω BNC female
Protection Grade
Total electrostatic protection
1a contact discharge: III
1b air discharge: III
Voluntary standards: IEC61000-4-2
Indicators
Power
Red LED
Signal
Green LED
Environmental
Operating Temperature
0~70°C
Storage Temperature
-20~85°C
Humidity
0~95%
Mechanical
Size
85mm*45mm*25mm
Material
Aluminium
Color
Black
Weight
180g
Reliability
mean time between failures
>50000hours