LCT8 PRO LAN CABLE TESTER LOCATES DISTANCE TO THE FAULT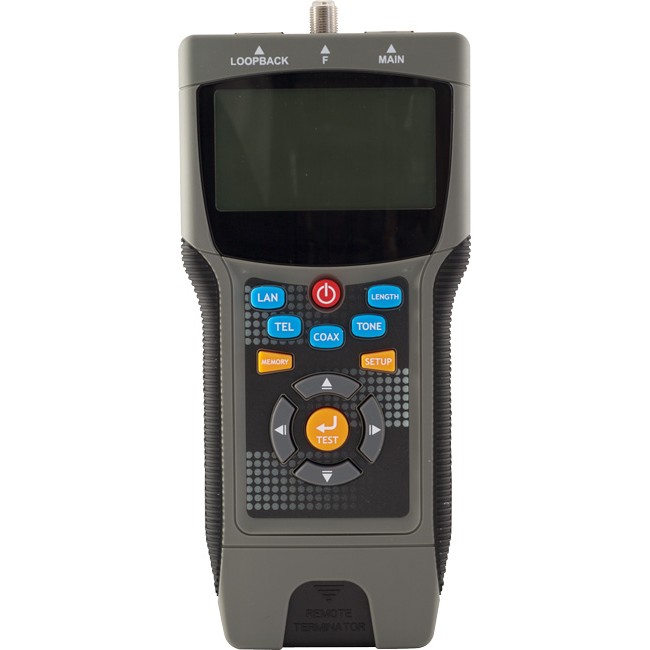 Downloads


LCT8 manual (2.6mb)
The LCT8 is a great tester for people doing communication installations and maintenance, as it provides quick verification of several common types of communication problems in structured LAN wiring, coaxial cabling and telephone wiring.
Find the open circuits, short circuits, jumpers, crossed or split pairs in coax and UTP cables.
Identifies and locates the distance to an open or a short in seconds

Time-domain reflectometer (TDR)

Identify cables using upto 8 (optional) remote terminators

Remote adaptors require no extra power
1x remote terminator supplied with LCT8

Low battery indication.
Measures cable length in a box, on a spool, or in a wall. Know how much cable you have left on a spool before beginning your pulls.
Check for wiring errors in: LAN UTP cables, coaxial cables and telephone lines,

such as:

open circuit,
short circuit,
jumper wire,
reverse connection,
cross talk interface or,
split pairs.

Locate the wiring or connection error.
Dynamically calibrate cable length and make length measurement as accurate as 97%.
Simple and easy to use 144 x 64 Dots FSTN LCD screen display test results.
Portable unit with long battery life.
Automatic time delay shut off.
Measure length and pair without the need for remote terminator.
1x Remote terminator with audible alert supplied.
Self-checking function and automatic compensation for any change in battery capacity or ambient temperature.
Dimensions: 195 x 93 x 38mm (LCD display: 69 x 38mm)
Locate/Identify cables with up to 8 remote passive test jacks

Note: Only 1x passive terminator supplied (ID01)
7x extra optional passive terminators available: LCT8RM
Display
4×16 Character LCD lattice.LCD module:70.6 x 60mm (valid visual field 60 x 32.6mm)
Connector Type
RJ45 / RJ12 / RJ11 & F-connector
Button
(1)Lan, (2)Tel, (3)Coax, (4)Tone, (5)Length, (6)Test, (7)Power
Cable Type
Shielded or unshielded, CAT-6, CAT5e, CAT5, CAT4, CAT3 and coax.
Error Status
Open circuit, short circuit, jumper wire, reverse,connection or cross-talk interference and split pairs.
Measure Types
Measures cable length via TDR.Checks and verifies wire tap.Generates four different tracing tones to help identify users.
Cable Length & Accuracy
Accuracy of the length measurement is ± 5%
Length: 1 ~ 350 meters (3~12000 feet)
Minimum cable length for testing twin pairs
1 metre (3 feet)
Power Source
9 volt alkaline battery.
Turns off automatically
Auto-off in any module and low power consumption for long battery life.
Input protection
Protection against excess voltage, transients ringer signal.
Dimensions
195mm(L), 90mm(W), 40mm(H)
Enviromental
Operating temp: 0 to 50 CStorage temp: -10 to 60 CHumidity: 10% to 90% non condensing.
Accessories
Tool bag, F to BNC adapter x 2

Warning
The LCT8 should not be used on an 'active' circuit, since it will interfere with the signal and affect the testing judgments.