M035LCD 3.5" PALM WRIST LCD MONITOR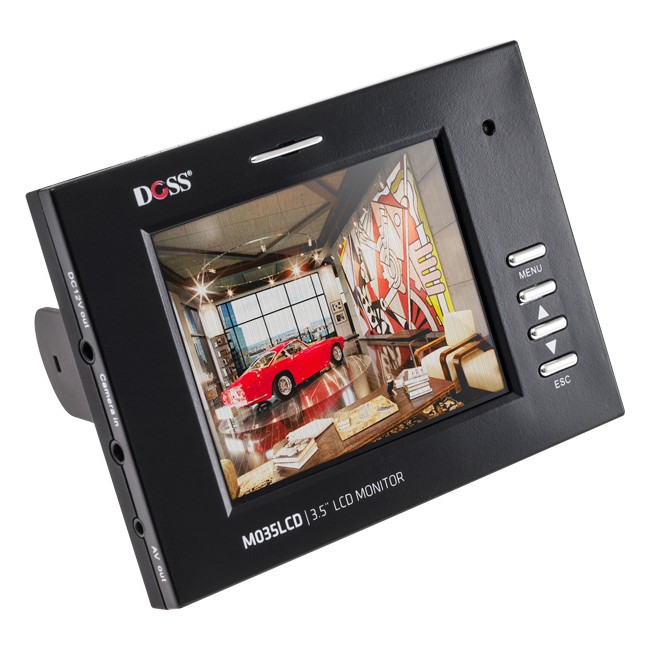 Downloads


M035LCD Sell Sheet (1mb)
Discontinued
A convenient and lightweight LCD monitor ideal for security installers for CCTV testing and monitoring.
3.5" TFT LCD monitor
OSD menu
Video System input: PAL/NTSC
AV In & Out
DC 12V Output; test camera without separate power adapter
LED light indicator
Smart Portability – Multiple carry and mount options

Use it on your desk or attach it to your waist with the versatile kick-stand
Wear it on your wrist with the included wrist strap
Mount it to a wall with a bracket (not included); standard camera mount screw-thread
Package Contents
2x RCA (1x Video + Mono Audio) to 2.5mm AV lead
CCTV 1x BNC Male (Video) + 1x RCA Plug (Audio) to 3.5mm lead
Instruction manual
Power supply: 12V 1500mA DC Mini-USB power supply
4x 1.2V / 2500mAH NiMH rechargeable AA batteries
Wrist strap
Specifications
Screen size: 3.5-inch
Resolution: 480 x 360 pixels
Power in: DC 12V
Power out: DC 12V
Power consumption: 1.5W
Ambient temperature: 0-50°C
Storage temperature: -30 ~ 80°C
Dimensions: 118 (W) x 83 (H) x 27mm (D) mm
Weight: Approximately 120g
Connections
Mini-USB power input
3.5mm Camera AV input
2.5mm AV output
12VDC Output
Why is the screen on my unit black when I power it up?

The M035LCD needs a camera input to activate the screen and associated menus.