M700SDI 7″ HD-SDI CCTV TESTER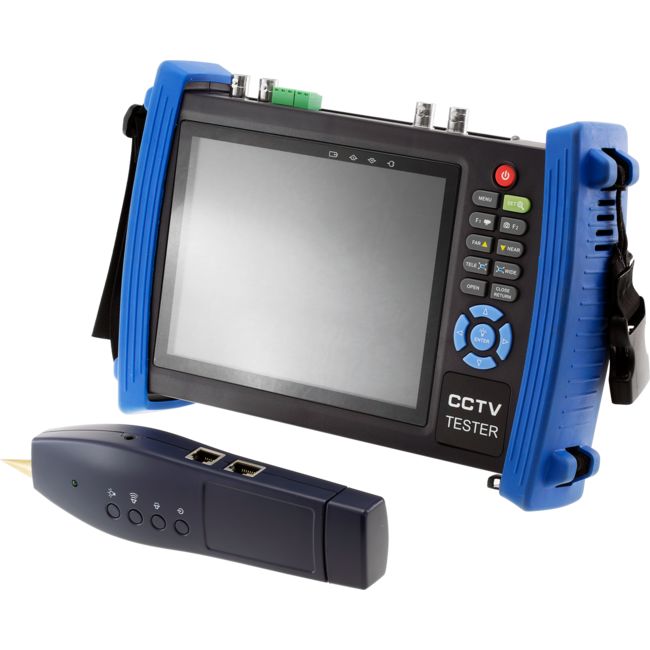 Discontinued
M700SDI offers a wide range of features to simplify CCTV camera installations. It is capable to test power, focus and aim your cameras locally without a trip back to the control room. The unit´s bright screen and easy to use menu are ideal for outdoor use.
The CCTV HD-SDI Tester is designed for the installation and maintenance of the video monitoring system. It is an ideal tool for CCTV security system of SDI digital camera and analogue camera. It is easy to operate and can be used for analogue camera, SDI HD digital camera, camera with PTZ control and video in and video out.
Features
7 Inch LCD display screen with 800×600 resolution (supports 1080×720 and 1920×1080 inputs)
HD-SDI Video in & out
VGA/BNC connect in
Display analogue camera image and PTZ Control
Detect video peak level, SYNC level, Colour Burst etc
LAN tests: IP address search, PING, Port scan testing etc.
Please note:
The SDI and HD-SDI input is for progressive scan inputs only (NOT interlaced).
Display
7 inch TFT-LCD, 800×600 resolution
HD-SDI signal
SDI video in (BNC) x1,
SDI video out (BNC) x1
Analog video signal
BNC video in x1,
BNC video out x1    
PAL/NTSC auto-change
VGA signal
VGA in x 1
Video level meter
video Peak level, SYNC level, Colour Burst measurement
Audio input
Test if the audio of other equipment works normally
PTZ Protocol
support more than 30 protocols, such as RS232/RS485, PELCO D/P, Samsung, Panasonic, Lilin, Yaan, etc.
Baudrate: 600-115200 bps
Color bar generator
Output one channel PAL/NTSC colour bar video signal for testing monitor or video cable (red, green, blue, white and black colour)
UTP cable tester
Test and identify twisted pair wires
Data Monitor
Capture and display the command data of RS485/RS232 from controlling device.
Photograph,Video record and playback
Snapshot, Video record, Playback
Micro SD card storage
Communication port
10/100M adjustable, RJ45
Network testing
IP address scan, Link monitor, PING test, Scan the ID of the PTZ camera quickly
PoE tester
Display the power supply voltage and the cable connection status
Cable scan
Trace cables by audio probe
Power out-1
DC 12V output, Max.2A
Power out-2
DC 5V output, Max.2A
Power adapter
DC12V 2A
Battery
Built-in 7.4 V polymer li-ion battery, capacity of 6500mAh
Rechargeable
working time lasts 16 hours after 8-10 hours charge
Operation setting
English/Chinese OSD menu optional
Auto off
5-60 mins
Working temperature
-10 to 50°C
Working humidity
30%~90%
Dimension / Weight
231 x 172 x 52 mm / 1.3 kg