MRC03 MAINS OUTLET REMOTE CONTROLLER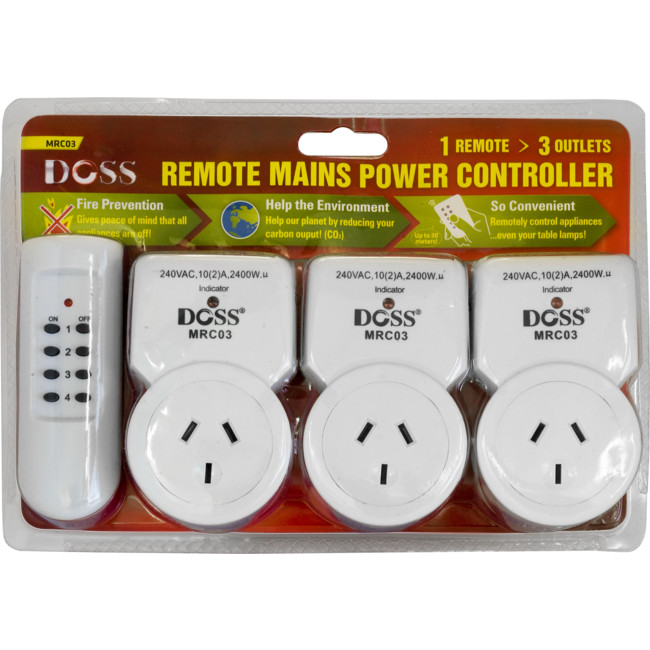 Downloads


MRC03 manual
The switch that reduces the 'standby' power leak in your home. Reduce your carbon footprint and cut your power bill.
Up to 10% your power bill is used by appliances in standby mode!
Easy to install (no electrician required) and easy to operate, the DOSS MRC03 sits between your power board and your power point, operated by a wireless remote. Enjoy peace of mind and lower power bills. It's the affordable solution to helping you switch off waste and switch on to saving energy and money.
Kit includes 1 RF remote + 3 outlets
RF Remote control means line-of-sight is not necessary

Outlets work hidden behind equipment and cabinets!

Each outlet's channel is programmable (CH1-4)

Multiple outlets can share the same channel to be controlled simultaneously

Saves stand-by power
Saves from your electricity bill
Can be used in conjunction with a power board such as the DOSS SPB41 4-way surge protect power board
Approval number: V08395
Specifications
Fixed code transmitter
Each transmitter (remote) can control up to 4 channels
Radio frequency: 433.92MHz
Remote max. range: 30 metres (direct line of sight)
Remote battery: 23A 12V
Max Power: 2400W (10A)