PB20RS SURGE PROTECTED DOUBLE ADAPTOR
Protect your Computer, TV or Hi-Fi from damaging power surges.
230-240V 10 Amps Max
Max. Continual V: 300V
Energy absorption: 149.8 Joules
Response time: Less than 20 nano seconds
Max Clamping current: 775 V @ 50A
Right hand
Note: this device can absorb up to 149.8 Joules. If it is overstressed, the indicator lamp will go out to indicate that it is time to replace the unit.
Some common questions regarding surge protect power boards
I've seen a power board that looks the same, but is cheaper. Is there any reason?
Surge protection comes down to a couple of things, but one of the key factors is the ability to absorb energy. Our DOSS SPB81 will absorb a huge 3,444 joules. Competing models may look the same, but the performance isn't the same (example below).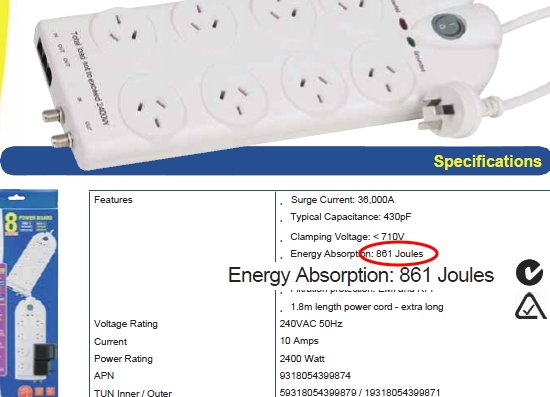 How come equipment warranties are not offered by Doss?
Equipment warranties can often justify higher retail prices which is good for shops and profit margins. On the flip side, many end users, particularly those with mortgages, will already have house & contents insurance.The products connected to the power board are more than likely covered.
To find out more have a read of the PDS for your insurance policy.
Secondly, for covering a wider variety of issues, you could consider extended warranties from a provider that specialises in this area. This way, you can elect to cover a huge variety of issues including even data loss.