PB5000 DUAL USB POWER BANK 5000MAH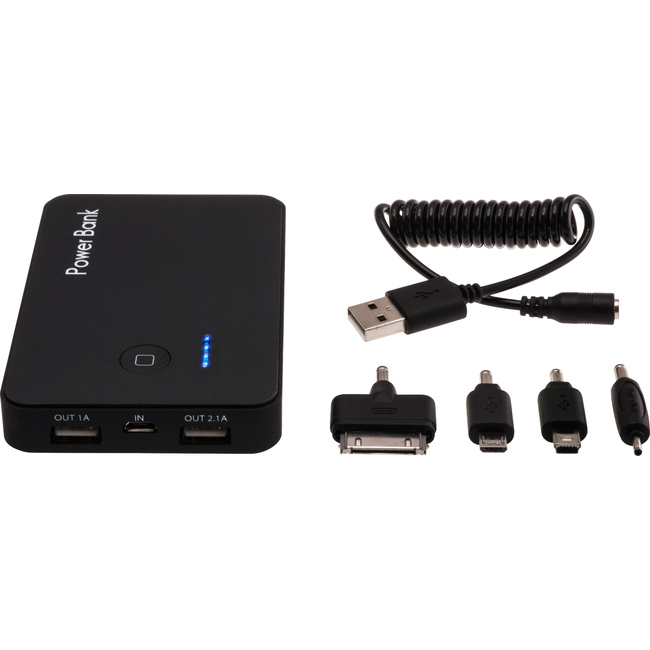 Discontinued
Charge your phone multiple times with a massive 5000mAh capacity. Most power banks have an 0.5A or 1A output, which is not enough to charge an iPad. The DOSS PB5000 features an additional 2.1A output specifically for the iPad and other high-drain, large capacity devices like the Samsung Galaxy Tab tablets.
Dual USB Power Bank / charge two devices at the same time

Output 1: 5V/ 1A
for iPods, iPhones, Android phones etc.
Output 2: 5V/ 2.1A
for iPad, Samsung Galaxy Tab P1000, Moto MH900 and MID etc

5000mAh battery capacity
A-grade Lithium polymer battery
Portable design
Remaining charge indicator LEDs
Included tips:

MicroUSB: for standard smart phones such as HTC, Motorola, Samsung, LG and more
Apple Dock Connector: for iPod, iPhone, iTouch and iPads
Mini USB: For digital cameras, wireless keyboards etc.
Nokia slim connector: for a variety of Nokia phones

Easily recharged via your PC or any USB power port
Extremely low discharge rate means you can carry the PB5000 for a long time before it needs a recharge!
| | |
| --- | --- |
| Not only can the PB5000 charge your iPad, it can charge your iPhone at the same time! | Various tips to suit a wide range of phones and portable electronic devices |