PIN1000C 1000W 12VDC-240AC INVERTER WITH BATTERY/SOLAR INPUTS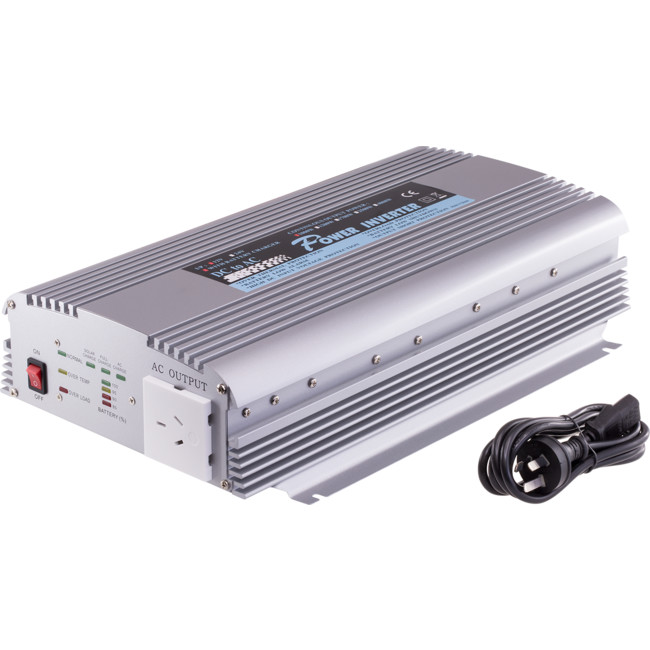 From a 12V DC power source (such as your vehicle Battery) this inverter will efficiently and reliably power a wide variety of 240V AC household appliances such as TV's, computers, game consoles, power tools plus much more. You can also use it as U.P.S when you connect to a battery.
The 1000W Pure Sine Wave Power Inverter is designed to provide years of trouble-free operation and includes automatic safety monitoring circuitry to protect your inverter, and your battery, from inadvertent overload conditions.
SPECIFICATION
Input voltage range: 10-15V DC
Input full load current: 110A
Standby input current: < 0.4A
Output voltage (ac): 230V
Output waveform: modify sinewave
Output frequency: 50HZ
Continue output power: 1000W
Peak output power: 2400W
Efficiency: 85~90%
Battery low shutdown: 10+/-0.5V DC
Battery low alarm: 10.5+/-0.5V DC
Thermal protect: 60+/-5deg C
Overload protect: shutdown (micro control)
High dc input voltage protect: 15.5+/-0.5v DC
Ac output short protect: shutdown (micro control)
Battery polarity protect: yes (by fuse)
Fuse: 30a x 5 pcs
Transfer time: 10m sec
Ac charge current (max.): 3 AMP
Solar input voltage (max.): 20V
Solar charge current(max.): 10A
Dimention (LxWxH): 380x210x85mm
Weight: 4.3kg