SPB5ECO 5 WAY MASTER SLAVE POWER BOARD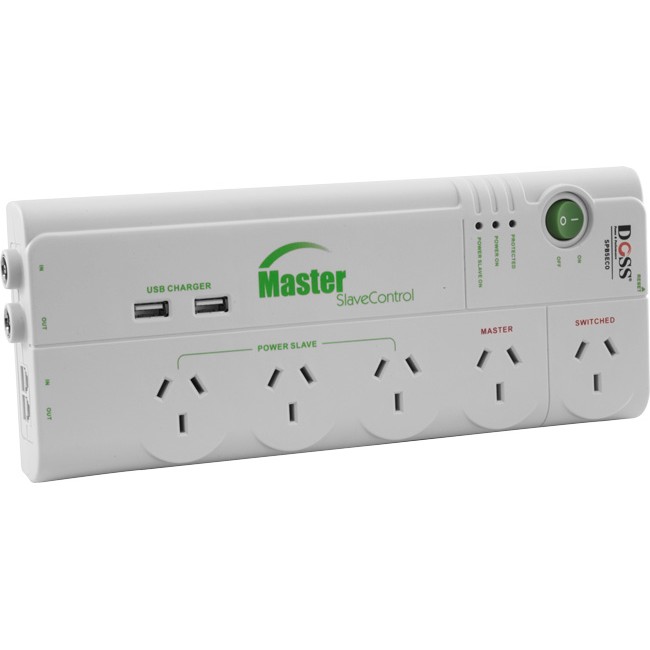 Downloads


User Manual (1.7MB)


SPB5ECO Sell Sheet (814kb)
Discontinued
The SPB5ECO is a product which is designed to reduce both stand-by power waste & energy cost. It also provides advanced surge protection to protect electronics, and power filtration for cleaner power supply.
It works by automatically turning off power to Slave Outlets when the device connected to the Master Outlet is in standby or turned off. It does this by monitoring the power consumption from the Master Outlet to determine whether the Master Outlet device is On or Off (or in standby).
This powerboard offers 5 outlets, all filtered and surge protected to guard your expensive Hi Fi, TV, or DVD etc. against damage.
About the Netbook – PC/NB Switch
Netbook computers are designed to run on lower power consumption patterns than PCs & Notebooks. Due to this fact, the Master Outlet may not recognise your netbook computer's, or any other low current device's, standby / sleep / ON & OFF status in order to switch the Slave Outlets.
If your Slave Outlet devices are not powering ON or OFF correctly with your Master Outlet Device, try changing the setting of this switch (located on underside of the SPB5ECO).
1 Master Outlet

Controls power ON/OFF of the Slave outlets.

3 Power Slave Outlets

Turns ON/OFF automatically according to Master Outlet's command.

1 Switched Outlet

Manually turned ON/OFF by power switch.

Power ON Indicator Light

The green indicator light to show the utility power is powering
the outlets.

Power Slave ON Indicator Light

The blue light indicates the slave sockets outlets are fed
with power.

Protection Indicator Light

The green light indicates the surge protection is working
well when lit.

2-Port USB Charger

2-Port USB Charger (5V/1A)
USB ports work with iPhone chargers

Resettable Circuit Breaker

Reset the circuit breaker after a current overload at 10 Amps.
Disconnect all equipments before executing reset button.

Netbook – PC/NB Slide Switch

Located on the back, select setting by sliding the switch.
Electrical Rating
10A / 240V, 2400 Watts
Outlets(Total)
5
Master Outlet
1
Power Slave Outlet
3
Switched Outlet
1
Power Switch
Power ON/OFF Mode
Netbook-PC/NB Slide Switch
Available as an option
Switching currents
In normal operation :
ON trigger current: 152.1mA±13mA
OFF trigger current: 87mA±13mA
In Netbook operation :
ON trigger current: 78.3mA±13mA
OFF trigger current: 30.4mA±13mA
Surge Suppression
(NV) 918 J / (OS) 1836J / (QN) 3672J
EMI/RFI Noise Filter
150KHz~100MHz / up to 40dB
Optional Secondary

2-Port USB Charger (5V/1A)
Phone Line (RJ11) Protection
Combo Phone Line (RJ11) & Network (RJ45) Protection
DSS/COAX Connector Protection

Stand-by power
<0.8W
C-Tick Approval number: SAA101261EA
Some common questions regarding surge protect power boards
I've seen a power board that looks the same, but is cheaper. Is there any reason?
Surge protection comes down to a couple of things, but one of the key factors is the ability to absorb energy. Our DOSS SPB81 will absorb a huge 3,444 joules. Competing models may look the same, but the performance isn't the same (example below).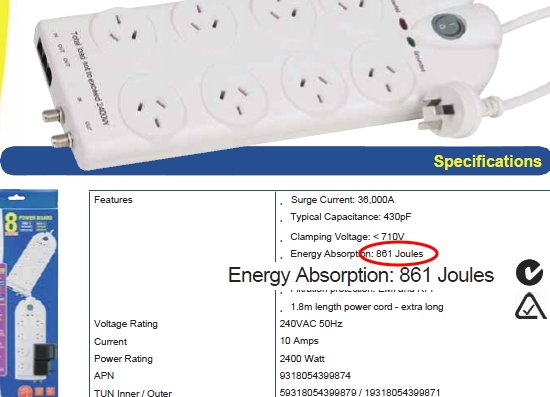 How come equipment warranties are not offered by Doss?
Equipment warranties can often justify higher retail prices which is good for shops and profit margins. On the flip side, many end users, particularly those with mortgages, will already have house & contents insurance.The products connected to the power board are more than likely covered.
To find out more have a read of the PDS for your insurance policy.
Secondly, for covering a wider variety of issues, you could consider extended warranties from a provider that specialises in this area. This way, you can elect to cover a huge variety of issues including even data loss.