ST172 TEMPERATURE AND HUMIDITY DATALOGGER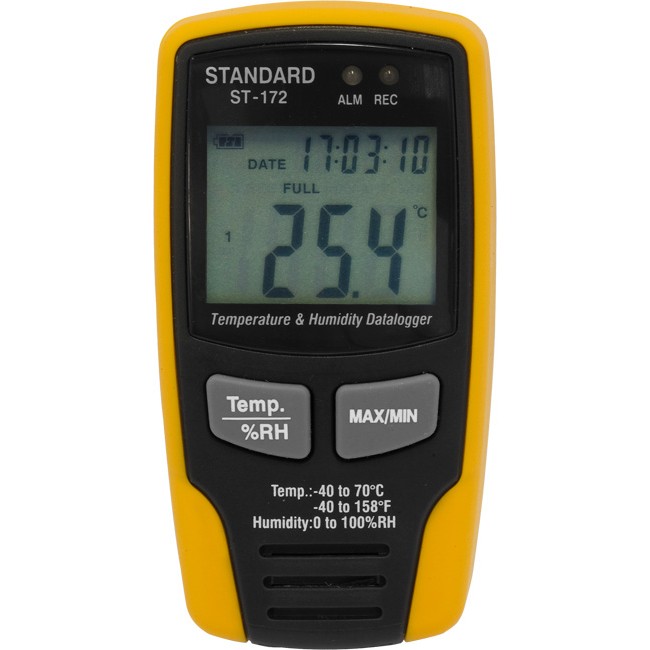 Downloads


Sell Sheets
ST172 is used to monitor temperature and humidity values efficiently and conveniently for long periods of time by using the datalogger functionality. The dataloggers are saved in the logger and simply read out by your PC with USB interface. The LCD shows current readings, MAX, MIN and sign of alarm.
Memory for 32,000 readings
Free selectable measurement cycle from 2 sec. to 24hr.
Battery life: more than 3 years
Display all status information through two LEDs
Download collected data through USB interface
Alarm display if user-defined maximum/minimum values exceed
Analysis software used to view graph for logging data
Measurement range
0 to 100%RH
-40 to 70°C
Accuracy
±2%RH
±1°C
Resolution
0.1%RH
0.1°C
Memory
32,000 samples
(16,000 for each temperature and humidity)
Measuring rate
2 sec. to 24 hrs
Battery life
3 years (typical)
Software Requirements
Windows 98 / 2000 / XP / Vista
Dimensions
94mm(H) × 50mm(W) × 32mm(D)
Weight
91g
Durable case to lock unit while datalogging
Combination pad lock
3.6V 1/2AA Lithium battery
USB A to USB mini B lead
Datalogging software CD
Images
Please note: The default PIN for the padlock is 000. To change the default PIN, while the padlock is unlocked, just push the button underneath and change to your desired combination.