ST8852 PRO SOUND LEVEL METER STANDARD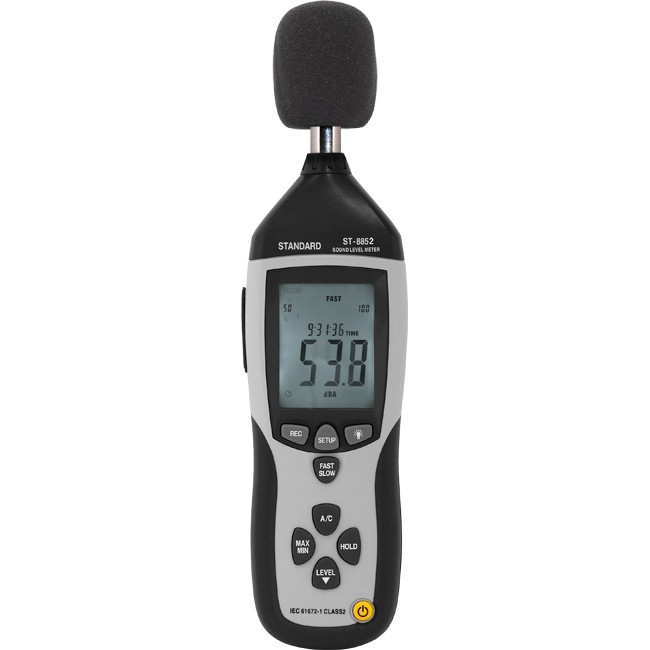 Downloads


ST8852 User Manual
ST8852 is similar model as ST8851, but with Datalogger function built-in.
ST8852 is designed for noise project; quality control; illness prevention and cure and all kinds of environmental sounds measurement. It is applied to the sounds measurement at factory; school; office; traffic access and household, etc.
Features:
Conforms to the IEC61672-1 CLASS2 for Sound Level Meters
MAX & MIN measurements
Over range display
Under range display
A & C Weighting
FAST & SLOW response
Analog AC/DC outputs for connection to frequency analyzer or X-Y shaft recorder
Specifications:
Standard applied: IEC61672 -1 CLASS2
Accuracy: 1.4dB
Frequency range: 31.5HZ ~ 8KHZ
Dynamic range: 50dB
Memory: 32700
Level ranges: Lo: 30dB ~ 80dB
Med: 50dB~100dB
Hi: 80dB ~ 130dB
Auto: 30dB ~ 130dB
Frequency weighting: A/C
Time weighting: FAST (125ms), SLOW (1s)
Microphone: 1/2 inch electret condenser microphone
Display: 4 digits LCD display with a resolution of 0.1dB
Display Update: 2 times/sec.
MAX hold: Hold the Maximum reading
MIN hold: Hold the Minimum reading
HOLD: Hold the readings
Alarm function: "OVER" is when input is more than upper limit of range. "UNDER" is when input is less than lower limit of range.
Analog output: AC/DC outputs from earphone outlet AC=1Vrms ,DC=10mV/dB
Data output: USB data traffic
Auto power off: Meter automatically shuts down after approx. 15 minutes of inactivity.
Power supply: One 9V battery, 006P or NEDA1604 or IEC 6F22.
Power life: About 30 hours
Operation temperature and humidity: 0°C ~ 40°C, 10% RH ~ 90% RH
Storage temperature and temperature:? -10°C ~ +60°C, 10% RH ~ 75% RH
Dimension: 278 (L) x 76 (W) x 50 (H) mm
Weight: 350g
Accessories: Instruction manual, battery, screwdriver, 3.5mm earphone plug, windscreen, software, USB cable.