STEALTHDOME 700TVL SECURITY DOME CAMERA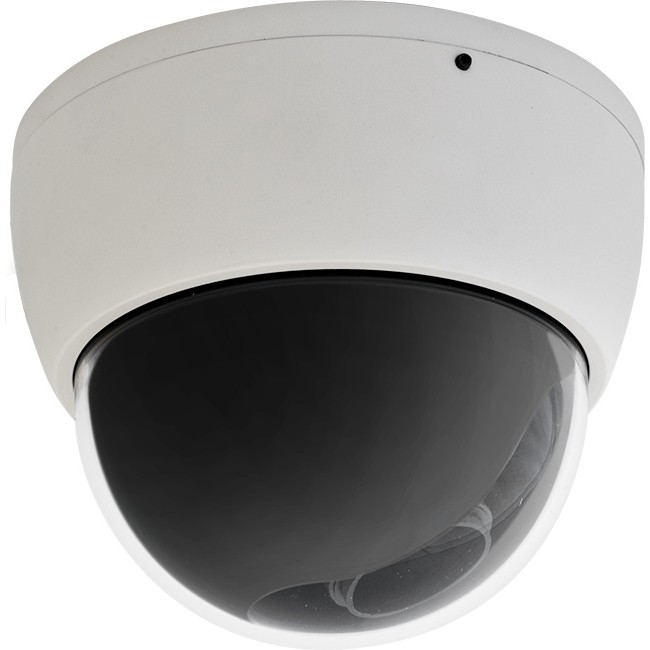 Downloads


DOSS CCTV Camera Range 2012 Sell sheet
Discontinued
{tab=Features}
1/3" Sony EXview HAD CCD II Sensor
Sony EFFIO-S DSP Chipset
700TVL Resolution
Adjustable lens: 4mm – 9mm (approx 98° – 38°)










{tab=Specifications}
Model
STEALTHDOME

Sensor

1/3" Sony EXview HAD CCD II
DSP
Sony EFFIO-S
Resolution
700TVL
Effective Pixels
NTSC: 976 x 494
PAL: 976 x 582
Lens
4mm – 9mm
Lens Type
Manual
Lens Origin
Korea
Approx View Angle (H)
98° – 38°
IP Rating
IP65
IR LEDs
none
IR Range
n/a
Adjustable IR Brightness
n/a
WDR
(Wide Dynamic Range)
ATR-EX
Sens-up
yes
OSD
yes
Inline Controller
no
Noise Reduction
3D-NR
Backlight Compensation
HLC/BLC/OFF
Image Colour Adjustment?
(ie brightness/contrast/ tone/saturation/sharpness)
yes
Mirror function
(Horiz / Vert / Rotate)
H / V / R
Privacy Zones
15
Motion Detection Zones
4
RS-485
no
Power
(with IR on where applicable)
12VDC / 200mA
{tab=Downloads}
pdf; 3.6MB

DOSS CCTV Camera Sell Sheet
{tab=About Sony Chipsets}
Sony's EXview HAD CCD II offers improved characteristics over the Super HAD CCD II and EXview HAD CCD Sensors, and other CCD Sensors.

Less space between On-chip microlenses and light sensors
Improved and longer life colour filters
Larger light sensors and larger sensor apertures

Higher light sensitivity and improved spectral sensitivity
High sensitivity to near IR range
Lower noise

Reduced image Smearing

Microlens
Structure
Low light
& IR sensitivity
Smear
Other CCD
Sony EXview HAD II CCD

New in 2013, the DOSS range of cameras are being upgraded with Sony Effio DSP (Digital Signal Processor) chipsets for superior images and features—first and foremost, introducing 700TVL resolution across our range!

Sony's Effio-S DSP Chipset supports the following features*:

Multifunction model
ATR-EX (Adaptive Tone Reproduction)
2D & 3D noise reduction
Digital image stabilizer
Slow shutter (Sens-up)
Digital Zoom / E-zoom
Motion detection

Privacy mask
HLC (High Light Compensation)
Preset OSD
Exposure control for IR light
Low power consumption

ATR-EX
(Actual camera image)

Sens-up
(Actual camera image)

Off
On
*Features mentioned are supported by Effio chipset but may not be implemented/enabled – please check the camera specifications.
{/tabs}