VD102-4 VGA OVER CAT5 1 IN 2 OUT VIDEO EXTENDER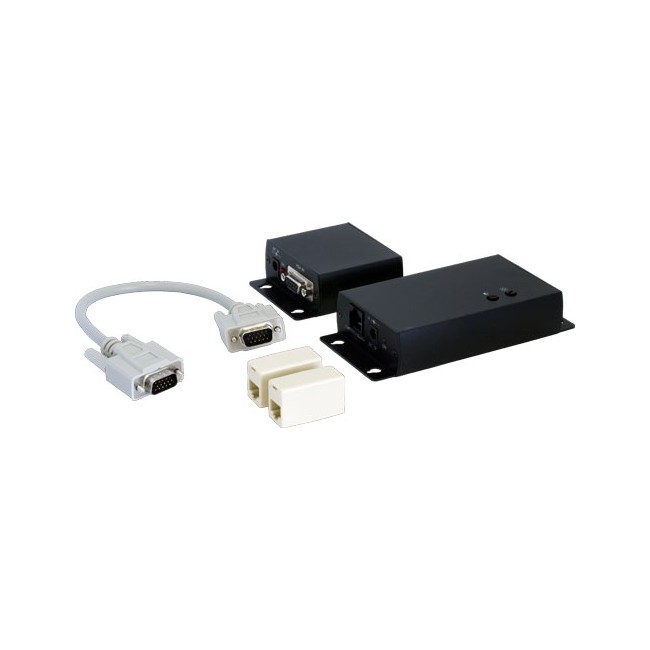 Additional Images

Discontinued
The VD102 is designed for long range VGA distribution over cost effective CAT5 UTP cable. One or multi video input to multi output, with one VGA LOOP output (VGA cable) for local side, other is RJ45 output (CAT5 UTP cable) at remote side.
Both receiver and transmitter feature built in amplifiers for long-range VGA signal transmission up to 300 metres.
Ideal for classroom, lecture halls, retail kiosks, video information displays, overhead projector systems, PC-training systems, and tradeshows PC demo video distribution systems.
Each set including one piece VD102-T transmitter and one piece TTA111VGA-R receiver.
Dual output: 1 VGA loop output for local, plus 1 CAT5 RJ45 output for remote side.
Built in contrast, brightness adjustment at Receiver.
Supports up to 1600×1200@85Hz.
Use CAT5 cable instead of VGA cable.
Long range transmission up to 300 meters (max).
Power supply included.
Support Resolution
Up to 1600 × 1200 @ 85 Hz
Transmission Distance
Up to 300m (1000 ft.)
Video Amplifier Bandwidth
150MHz
Video Input Signals
RGB Analog (75Ω, 0.7Vp-p)
Sync Signal H/V Separated (TTL)
Horizontal Frequency Range
30-95KHz
Vertical Frequency Range
50-180Hz
VGA Connector
15-pin Mini D-Sub (High Density)
Link Connector
1× RJ-45
Power Supply
Transmitter: 5VDC / 500mAReciever: 5VDC / 500mA
Power Consumption
Transmitter: 350mA (Max)Reciever 250mA (Max)
Temperature
Operation: 0°C to 55°C,Storage: -20°C to 85°C,Humidity: up to 95%
Dimensions W×H×Dmm
Transmitter: 67×27×73Reciever: 67×27×140