CCTVCOM24 RG59 & FIG8 CCTV COMBO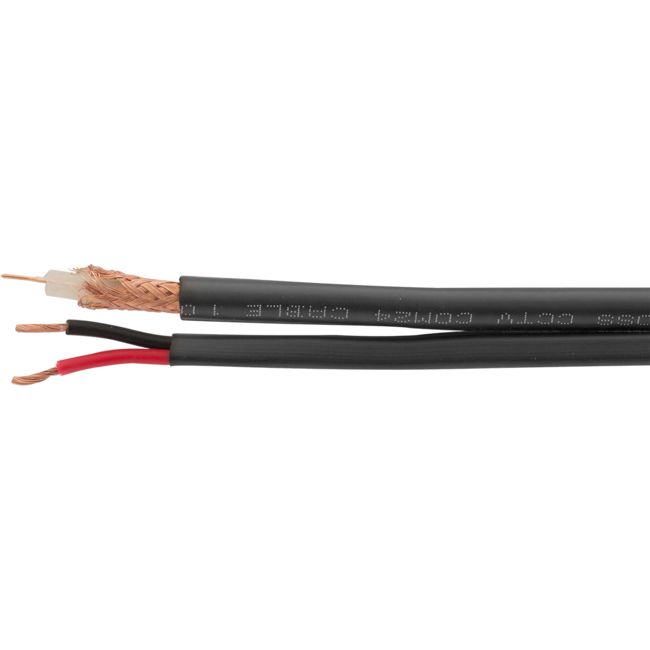 Downloads


RG59U Attenuation Test Results
Figure-8 RG59 Video Coax + heavy duty 2-core power cable with tracer
IMPROVED DESIGN
The construction has been improved to have 2 separate but bonded (figure-8) power and RG59 video cables.
This is an improvement as there's one less jacket for easier install and due to the better placement of the figure8, there is less crosstalk
Designed for commercial applications
Overall: 10mm max width
Our CCTVCOM24 has been quality checked.

Video signal over 100m — Pass
Power attenuation over 100m under a load — Pass

RG59 Attenuation (dB/100m):

9.342 @ 55MHz
19.071 @ 211MHz
28.846 @ 450MHz
41.635 @ 870MHz
45.388 @ 1000MHz
55.268 @ 1450 MHz
69.270 @ 2150MHz
83.187 @ 3000MHz

Available as:

Per metre: CCTVCOM24-1M (05062038)
250m Roll: CCTVCOM24-250M (05062045)
FAQ
Q. Can CCTV cameras operate over the full 100m length of the CCTV cable?
Yes. Picture remains excellent and there are no issues with power.
Method:
We tested a Doss IN50PRO connected to a Doss 12VDC/500mA power supply over the full 100m length.
We measured voltage input at 12.18V and output voltage at 10.38V.
Current draw was 260mA and resistance was 7 Ohms.