IN50IPB2 3.21MP IP CAMERA WITH MOTORISED LENS [BLACK]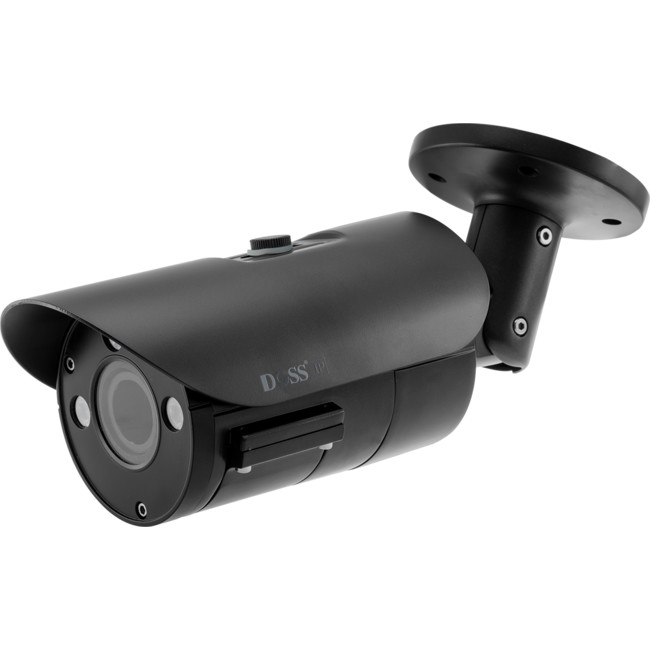 Additional Images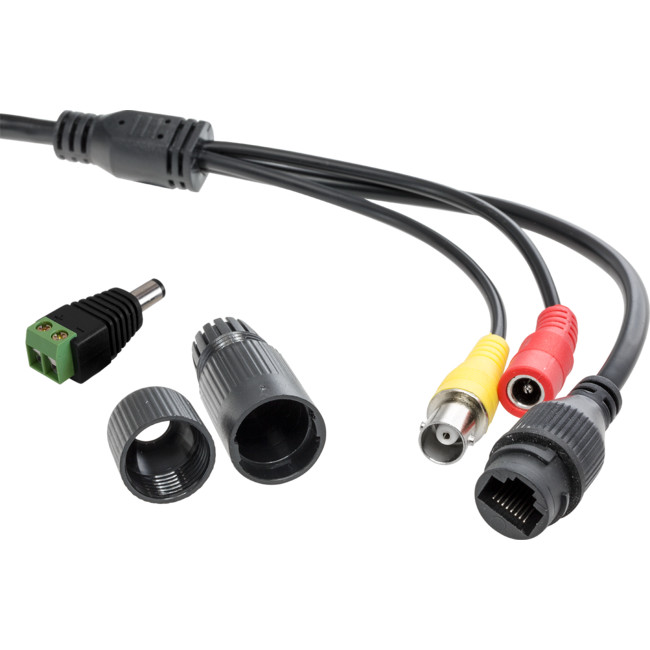 Discontinued
Sony 1/2.8" 2.07 Mega pixel Progressive Scan TWDR Exmor CMOS Sensor
2.8-12mm motorized vari-focal lens
Provides a 92° to 28° view
Resolution: 2048×1536
Built-in intelligence
H.265 encoding
Compared to H.264, the new H.265 encoding on the Doss CCTV cameras provide 40-50% reduction in bit rate. Which means you get to store more footage without sacrificing video quality!
T-WDR — True Wide Dynamic Range
Unlike software based digital WDR implementations, T-WDR is sensor based and provides extremely wide dynamic range
0 Lux with IR On
DSP: HI3516D+IMX123
40-50m IR (1x IR Array LEDs)
Easy setup remote viewing for PC, Mac, iOS, and Android
MicroSD slot for self-recording
Vandal proof and IP66 + IK10
The DMP30IP is extra tough with extra impact protection!
PoE (Power over Ethernet) DC12V
SNR: =50db
Our new cameras now feature motorized lenses which means:
Significantly reduced installation time for each camera
If you needed to change the zoom on your camera, you'd need to physically adjust the lens using a screwdriver or some other tool. With a motorized lens, it's all done remotely via software.
easy recalibration and refocus
If you need to shift the focus to another area of the image, again, no need to have to go to each camera and manually adjust focus. Simply do it remotely.
Built-in intelligence
The new Doss cameras are smarter. Real smart. Whether you want to make sure a particular object has been removed or not or whether you need to know if a fire has started or not, the new Doss IQ range cameras have it all.
Here are some of the intelligent analysis baked into the cameras:
Target counting
Area detection
Object detection
Virtual Guard
Connections
[DC] 12V DC power input
[RJ45] Ethernet port
[BNC] Analogue video out
CAMERA

Image sensor

1/2.8″ SONY 3.21MP Progressive Scan Exmor CMOS

Min. illumination

0 Lux/F1.4 (IR ON)
Colour: 0.05Lux
B/W: 0.005Lux/F1.4

IR distance

40-50m (3xIR?IR LEDs)

Electronic shutter

Auto/Manual (1/25~1/10000), FLK

Day/ Night

ICR switch, auto, colour, B/W, ext

Scan system

Progressive scan

Lens

2.8-12mm motorized lens

Lens interface

Φ14

S/N ratio

≥50db (AGC off)

Output

PAL/NTSC adjustable

WDR

T-WDR (120dB)

Video Parameter

Mirror, 3D noise reduction, sharpness/brightness adjustable

AUDIO/VIDEO COMPRESSION

Video compression

H.265/H.264/MJPEG

Encoding features

Dual-stream;
NTSC: main stream: 2048X1536 @30fps, sub-stream: D1@30fps
PAL: main stream: 2048X1536 @25fps, sub-stream: D1@25fps

Max. image resolution

2048X1536 pixels

Video bit rate

Constant bit rate, variable bit rate (16kbps~8000kbps)

Stream type

Complex stream/Video stream

Audio compression

G.711A

Audio bit rate

64Kbps

NETWORK

Motion detection

Single detection zone or multi-level sensitivity can be set

Privacy zones

4 zones

Snapshot

JPEG format, max. resolution based on snapshot resolution

Password protection

Character display

Support (Channel, Date)

Alarm function

Triggered by network anomaly, intelligent analysis, video tampering, motion detection etc.

Intelligent analysis

Target count
Area detection
Object detection
Virtual Guard

Mobile surveillance

Protocol

TCP/IP, UDP, HTTP, DHCP, RTSP, DDNS, NTP, PPPOE, UPNP, SMTP, ONVIF

Port protocol

ONVIF, GB28181 optional

INTERFACE

Network Interface

RJ45 100M adaptive

Analog video output

1ch 1.0Vp-p complex video output

GENERAL

Operating temperature /humidity

-20°C ~ 55°C/0%-90%

Protection grade

IP66

Vandal proof

Power supply

DC12V/POE

Power consumption (max)

<9W

Dimensions (mm)

78 (W) * 95.5 (H) * 262.82 (L) mm

Weight

904g
Are DOSS IP cameras compatible with my NAS?

As long as the surveillance software on your NAS is ONVIF compatible, the DOSS IP cameras should work just fine.

We have successfully tested on both current range of Synology and QNAP NAS models.

Just make sure that you change the port to 8000 which is the default for the ONVIF protocol.

 

The following settings will get your Doss IP cameras to connect to your Synology NAS:

 

The following settings will get your DOSS IP camera to connect to your QNAP Surveillance Station:

If your media player supports RTSP (Real-Time-Straming Protocol) then you can access the DOSS IP camera range directly.
For VLC, the following URL structure will allow you to stream your IP feed.
These aren't the answers you're looking for?
Read our new, dedicated NVR Frequently Asked Questions page here!
DOSS IP CCTV Training Session
Want to learn how to set up and use the DOSS IP CCTV products? Ben Marshall ran a training session taking you through all the important steps, and some of the features of our IP CCTV range.