SSTPCAT6BL-1MT SSTP CAT6 SOLID BLUE (305MT)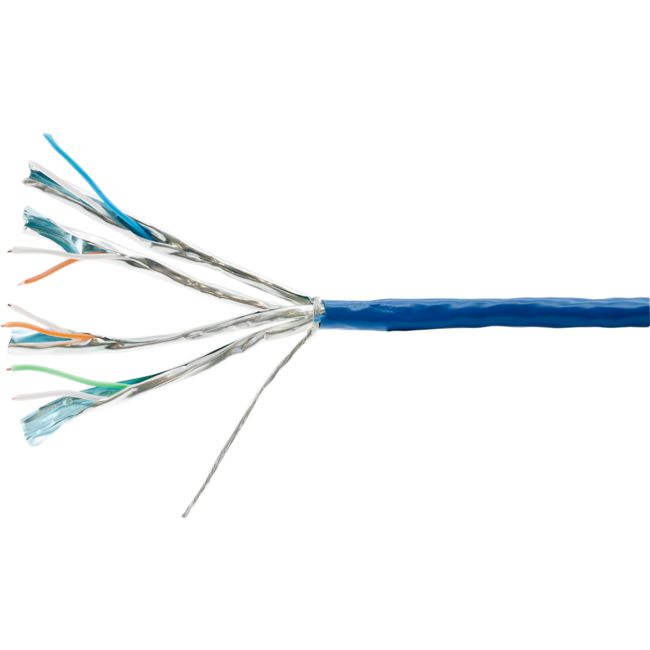 Downloads


SSTP CAT6 Cable Test results
Sold by the metre.
S/STP (Screened Shielded Twisted Pair) or S/FTP (Screened Foiled Twisted Pair) cabling offers shielding between the pair sets and an overall sheath shield within the cable. This type of shielding protects EMI from entering or exiting the cable and also protects neighbouring pairs from crosstalk.
Specifications
Conductor

Insulation:

Material: FO-PE and HD-PE
Diameter: 1.30 ± 0.02mm
Thickness: 0.37 ± 0.01mm
Colours (per pair):

Blue – Blue/White
Orange – Orange/White
Brown – Brown/White
Green – Green/White

Conductor:

Material: Bare Copper
Diameter: 1/0.571 ± 0.01mm

Shielding

Outer Braid (loose): 16×4×1/0.12mm
Aluminium Foil (per pair): 0.065×13mm

Jacket Insulation

Colour: Blue
Material: LSOH
Diameter: 7.6 ± 0.01mm
Thickness: 0.6 ± 0.02mm
Tensile strength (minimum): 0.917Kg/mm2

Electrical Characteristics:

Conductor Resistance (max): 9.38 Ω/100m at 20°C
Resistance Unbalance (max): 5%
Capacitance Unbalance (max): 330pF/100m
Mutual Capacitance (max): 560pF/100m
Images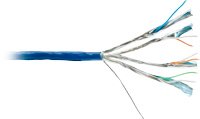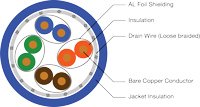 Why Shield Twisted Pair?
Shielded twisted pair wires are less susceptible to electrical interference caused by nearby equipment or wires and, in turn, are less likely to cause interference themselves. Because the signal is electrically "cleaner," shielded twisted pair wire can carry data at a faster speed than unshielded twisted pair wire can, allowing hardware to run at its full potential.