WPM03 WIRELESS POWER METER WITH 3 MAINS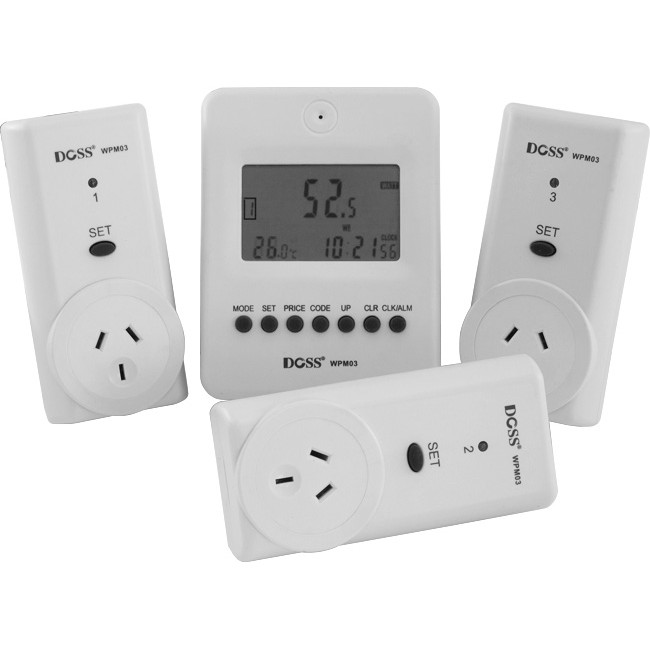 Downloads


WPM03 Sell Sheet


WPM03 User Manual
Discontinued
3 MAINS
Wirelessly monitor the electricity usage and costof up to three appliances around your home or office. Reduceyour carbon footprint and cut your power bill.
Reduce your impact on the planet and monitor your appliances in use at once. Simply plug an appliance into each sender unit, enter your local electricity price and monitor the usage on the LCD of the receiver unit. You can also monitor the cumulative usage via the memory as well as your greenhouse emissions. The Doss WPM03 Easy to install – no electrician required -and easy to operate.
Features
Clock and alarm function
Time display
Temperature and humidity display
Line voltage display
Line current display
Line power display
Total power display
Greenhouse emissions in kg display
Receiver requires 3x AA batteries
Specifications
Radio frequency: 433.92MHz
Effective distance and wireless transmissions range: 30 metres (in open space)
Measured Voltage Range: 200 – 276VAC
Measured Current Range: 0.02-10A
Measured Power Range: 0.5-2760W
FAQ
How to clear accumulated KWh
Press "mode" key to select " accumulated Kw"
Press "Price" key once to have "Total" on the display.
Press and hold "Clear" key in 3 seconds.
All accumulated of 3 channels will be cleared.