ZD917 SOLDERING AND DESOLDERING 2-IN-1 STATION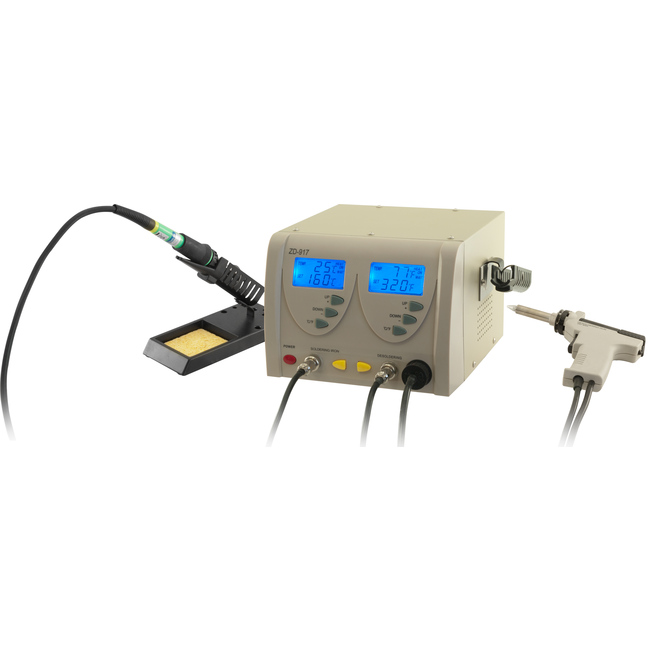 Downloads


DOSS Soldering Range 2012 Sell sheet
ZD-917 LCD display soldering & desoldering station features
Having one desoldering Iron with absorbing gun and one soldering iron in one station.
Exceptional high-performance PTC in the desoldering iron provides a long life and continuously controlled supply of heat, suitable for desoldering all type of components and easy removal of the residual solder.
Thermostat function suitable for soldering different components automatically.
The soldering iron and desoldering iron can be used independently or at the same time.
The temperature sensor on the top of the tips can check the tip temperature quickly and decreasing the possibility of the tip temperature falling off during the operating and suitable for lead free soldering.
Technical data :

STATION

SOLDER

DESOLDER

INPUT VOLTAGE
110-130V AC
220-240V AC
VOLTAGE
24V AC
VOLTAGE
24V AC
POWER CONSUMPTION
60W+80W
POWER
60W HEAT UP RATING 130W
VACUUM PRESSURE
600mm Hg
MAIN FUSE
3A
TEMPERATURE
160℃-480℃
POWER
80W
FUNCTION DISPLAY
LCD
HEATING ELEMENT
CERAMIC HEATER
TEMPERATURE
160℃-480℃